DUNTARVIE JANUS
1989 - 2009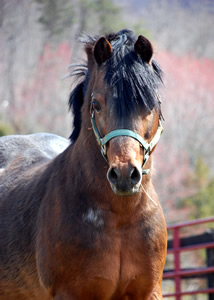 | | | |
| --- | --- | --- |
| | D.J. in winter woollies, aged 19 yrs | |
Duntarvie Crusader x Longnewton Sundance by Kirby Cane Sundog
My heart was broken when the day came for me as DJ'S caregiver, to make the ultimate decision for him,
that death was a kinder alternative for my friend than living with further pain and without his beloved movement and women.
He was quietly put down on a beautiful sunny day standing on green grasses outside his barn, with an entourage of two
vets, his blacksmith, and two kind lady friends holding and loving him. His beloved band of mares looking on and hailing
his departure to the lords pain free land. He was buried with two of his wives Penucha Martina and Starlyte Lucinda
one on each side of him, overlooking his paddock and his mares pastures.
One never gets over such a loss of many years of friendship, companionship, and service. I can only be consoled to
some degree with the fact that he left his mark whilst here with me, and to the realization as to the great honor it
was for me to have been allowed to have owned such a personable pony in my time.
Having been given those memories to cherish in my heart… It eases the pain.
D.J was always full of pony character, which he passed on to his children and grandchildren time and time again. There is so much
that I could say about how unique he was in so many ways, and certainly second to none in movement and balance,
and how outstanding he was when shown by me in his younger days (and mine) to many Championships in big quality classes.
I will limit my emotions compressed into a few words of gratitude in being able to own him, the like of which
I will probably not meet again until we meet again in greener pastures….
He arrived into Canada in the fall of 1989 in a large shipment of 9 welsh ponies, which my good friend Bob Owens and I consigned.
He traveled from his home in Scotland with his traveling companion also purchased on the same trip by me…Bemesyde Ballerina.
He was the youngest on that load, being weaned at the tender age of 4 months, but did not let the other ponies forget his potential
as a stallion. All of his babies have been kind over the years. All had wonderful personalities that allowed you to get into
their brains, and to ultimately love and manage them. Hindsight is always 20/20, but when I look back now over twenty
years, how I wish I had held back one of his lovely sons to replace him, as he produced more males than females over the years.
Some of his more well known sons and daughters are….
Brookside Mariposa dam of Brookside Maid of Honour (Prima Ballerina), Maid to Order, Marzipan, Here to stay,
Brookside Pink Magnolia - Champion Pony and Broodmare, Wynnbroook farm
Brookside Baccardi - Champion Stallion and performance, Wynnbrook farm
Brookside Bronze Tuppeny - Champion Stallion, Marjon Ponies, Canada
Brookside Bronze Taffeta - Champion Broodmare, Alizan Ponies, Canada
Brookside Ladyhawk Broodmare, Calluna Welsh, Canada
Brookside Excalibur Stallion, Calluna Welsh, Canada
Brookside Pink Martini - much loved family companion.
Brookside Bacchus – Stallion, Gayfields
Brookside Brigadier - much loved family companion
Brookside Bally Hoo Too - Champion in-hand and performance gelding
Movin Out - Champion Hunter pony
Brookside Nicoletto – Prize winner in-hand at Devon and Upperville
Brookside Merit - Champion in hand and Broodmare, Loafers Lodge Farm
Brookside Noblesse - Companion pony
Sandy Costanzo - O'Brien

---
STARLYTE LUCINDA
1980 - 2009


Gunthwaite Fleur de Lye x Chirk Pila Pala by Chirk Caradoc
Lucy was bred at Chirk castle stud in Great Britain and was purchased and imported to Canada
by Anita Neilson in 1981 sight unseen, as were all of Anita's British purchases for her Snow pony stud in Ontario.
Anita was particularly interested in Criban Victor lines and Lucy's pedigree traced back 6 times to him.
I never really looked at Lucy until the Snow Pony Stud was reaching its end. She wasn't particularly eye catching in anyway,
although she could certainly move when she felt like it, so no one really wanted her when she came up for sale. I bought her
simply because I felt sorry for her, and bought her for the ridiculous price of $250 dollars with a foal on her side…Phantom Legacy.
She was at that time eight years old.
She came home to Brookside with two other ponies I bought off Anita that year…. Belvoir Bergenia and
Penucha Martina. These three ponies were my foundation Section B female stock and I was most grateful to Anita for offering them to me.
Lucy only twice in her life needed a vet while she was in my ownership, once after a difficult foaling, and
for a brief period just before she died. She never foundered, and only needed her feet trimmed about 4 times a year,
which was fortunate, as she was a witch to trim in her younger days and absolutely horrible to worm.
If Lucy had have been a person, I would have seen her as a prudish lady with spectacles balanced on the end of her nose.
She was a real character. She did not take easy to being domesticated and had the strength of seven elephants when being
restrained. She gave me back over the years some really useful and sound foals, better than what she was herself, and in
some of those cases they went on to produce lovely offspring themselves. Like Brookside Lucullus and
Brookside Lullaby - both Champion under saddle and both having produced lovely offspring, and Brookside
Ladyhawk who has been a top producing broodmare for Calluna Welsh in Ontario. Barbara Evans of the
Cllynncopa Stud had her black daughter Snow Pony Ballerina, a fabulous producer in her time, who would regularly
jump over the paddock fence to get some extra grass and ten minutes later jump back into the same paddock. I would not
have believed it unless I had actually seen it. Ballerina was her first foal at aged three, and is still going strong. She had
several colts born over the years in Canada who sadly have been sold on to the hunter market and have thus lost their names in the process.
I always had to leave Lucy's foals on her until they were about nine month to a year. She was a kind and passionate mother and would
cry for days on end for her babies at weaning time. I have never seen a mare goose other ponies away from her babies with
her head held as low as she did, doing a flat out gallop in the process …without falling over. She would lift her leg for a foal to nurse
so high and for so long that I often wondered how she balanced herself doing that.
In her later life, when she was not as confident about being out in the herd, she developed a strong relationship with Cheeky…. Friars Seren Gogh…..
and we allowed the two old age pensioners to roam around the front lawn attached at the hip doing whatever they wanted to do, which was usually very little!
She died peacefully November 30, 2009, at the grand old age of 30, after eating her evening meal in her stall with her friends around.
She will be greatly missed by all of us, and her daughter Brookside Lullaby willcontinue on the line for her mother.
Sandy Costanzo - O'Brien

---
Brookside Steal My Sunshine
Double Grand Champion Section A Welsh Pony (under both Judges)
Reserve Overall Champion Welsh Mountain Pony
Bonnie Blue National USEF Gold Show Lexington Virginia May 8, 2009


1999 Welsh mountain pony mare
(Friars Brenin Dafydd x Friars Sunflower by Friars Freelance)
Dam of Champion colt Brookside Steal a Star
Photo shown as a 5 yr old...current show photo to follow...



---
2009 Foals
Reservations being taken for first right of refusal


Aged 2 days

Aged 2 days

Aged 2 days

Photo by Kathryn Southard

Dam Telynau Lillibert

Photo by Kathryn Southard

ARRIVED
Brookside Look at Me
2009 Colt foal by Telynau Elgar x Telynau Lillibert
Top quality section B chestnut colt, with star, stripe and socks. Beautiful head. Possible stallion material.
Definitely hunter quality. Lovely straight extravegant movement and very kind temperament.

ARRIVED
Brookside Laureate
2009 Bay/Brown Colt by Brookside Baccardi x Brookside Lullaby by Eyarth Grenadier.
Grandson of our foundation imported stock Duntarvie Janus, Belvoir Bergenia, Starlyte Lucinda and Eyarth Grenadier. A really beautiful welshy colt,
with an outstanding head and eye, top conformation and serious movement. Thank you Sandy Rose and Baccardi! Born April 2nd.
---
Brookside Maid of Honour
shown as Prima Ballerina
Registered Section 'B' Welsh Pony
(Eyarth Grenadier x Brookside Mariposa by Duntarvie Janus)


2008 USEF Zone 10 Champion
Small Green Pony Hunter

Congratulations to Kristina Jackson of Santa Ynez, California!
---

Congratulations to the Skelding Family and
Meadowview's Sundance Kid




VHSA Associate Green Pony Hunter Champion (2008)
VHSA Associate Pleasure Pony Champion (2007)
Sired by Telynau Elgar. Ridden by Morgan Bland.
Good luck in the open classes in 2009!


---
BROOKSIDE STEAL A STAR

Grand Champion Welsh Mountain Pony
2008 Royal Winter Fair Toronto, Ontario, Canada
Aged 1 year

Brookside Star Witness x Brookside Steal My Sunshine by Friars Brenin Dafydd

Stealer is owned and loved by Richard and Sylvia Dixon of Schomberg, Ontario, Canada
Richard handled his sire 'Witty' when he was also a yearling, to many Championships.
This is Stealers second show U.S & Canada....Champion both times.

Well done & Congratulations.
Good luck for future show successes in 2009.


---
Brookside Star Witness

Reserve Supreme Overall Champion
Mid Atlantic Show 2008


---

We are excited to welcome a newly purchased addition to our stallion station.


Cadlanvalley Bodacious
2005 Imported Palomino Section B stallion
12'3 hands
(Eyarth Troy x Cadlan Valley Louisianna)

All of his immediate family have been Royal Welsh Champions.... His Dun sire Eyarth Troy is by the remarkable Royal Welsh Champion and the British Sire ratings winner Carwed Charmer (deceased). Troy's dam is the very well known and now deceased broodmare Weston Twiggy. Cadlan Valley Louisianna is by the lovely bay sire also now sadly deceased, Thornberry Gamekeeper. Out of the black mare Weston Louisa who left some beautiful offspring behind

This young eye catching palomino stallion has to date produced two very nice colored foals, one black and one dun, and has several more foals due before the season is finished. He has several mares bred for 2009 foals. He, like his sire, is a kind gentle stallion. He has good straight hunter type movement and has been vet checked for us in 2008 for conformation, breeding soundness, and temperament.

We look forward to him making his home here in Virginia at the beginning of July.

We would like to take this opportunity to thank Lisa Shalaberger for allowing us to buy him, and very special thanks to Yvonne and Howell Davies in Wales for breeding such a truly lovely and useful boy. He will be standing at stud for the completion of the 2008 season, and hopefully for many continuing years to come.
---

photo credit Robert Kline
Brookside Pink Mimosa
*Telynau Elgar x *Penucha Martina by *Gorsty Firefly
Section B Mare
Champion Section B and Reserve Overall Supreme Champion Welsh Pony in Hand Spring Fling 2008 under Judge Eric Caleca.
Mimi is back from an under saddle lease and was shown briefly in hand at the 2008 Spring Fling show.
She smiled all the way through the show!!!
---
PENUCHA MARTINA
1983 - 2008
(Gorstey Firefly x Eryl Gwyneth)
Sadly on September 12th 2008, I said good-bye to my long time friend.
Words cannot express how much I will miss this mare.

Martina was a remarkable broodmare next to none. One of the last daughters remaining anywhere by the prolific British section B Stallion Gorsty Firefly.
I was indeed lucky, and very grateful for the opportunity to be allowed to purchase her from Anita Nielson when she disbanded her "Snow Pony Stud" in 1990.
For 20 years Martina has graced my paddocks in both Canada and the U.S with her glorious Welsh beauty and a long list of fabulous offspring she so kindly produced for me. She never let me down once as a broodmare in all the years in service, producing 12 remarkable foals by Duntarvie Janus, Eyarth Grenadier, Telynau Elgar, and one last gift by Telyau Royal Anthem.

There is little that can be said about a mare like Martina that cannot be observed in her children. All her foals were consistently beautiful, with kind temperaments. They possessed that special Welsh quality that makes you look twice, and all have had marvelous movement.
Some of her more noted offspring would be:
Brookside Pink Magnolia
*Brookside Mariposa
*Brookside Pink Mimosa
Brookside Pink Magnum
Brookside Pink Martini.
Brookside Merit
*Brookside Maggie Mae

*Three beautiful blessed daughters have been retained.
Sandy Costanzo - O'Brien


---