Brookside Steal My Sunshine
1999 Welsh Mountain Pony
Friars Brenin Dafydd x Friars Sunflower by Friars Freelance
View Pedigree


Sunshine has won many Championships including the 1995 American Nationals in a strong class of 15 good mares, and
was Reserve Supreme Welsh Mountain pony at the same show, under British judge Geriant Jones (Nebo).
Named after my son Marc (Len) and daughter (Sharon), and the song that did so well.... "If you steal my Sunshine," platinum 1999.....
Sunshine has never failed to be successful, in both the show ring and the breeding shed. Absolutely first class unquestionable temperament, which she passes on to her babies. Strong straight movement and a pleasure to show...as was her sire...Friars Brenin Dafydd. She is the dam of Champion Stallion Brookside Steal a Star, winner in both Welsh Mountain and sport pony classes in Ontario, Canada.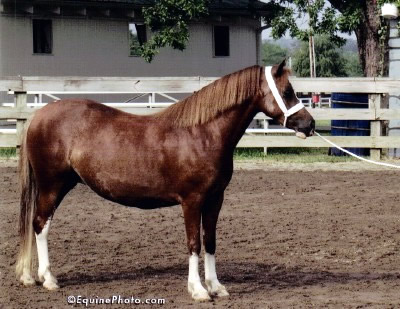 American National Champion Mare & Reserve Champion Overall